SPEE CALGARY CHAPTER NOTICE – SPEE Calgary Chapter Annual Donation
Introduction
We have in place the following:
SPEE Calgary Chapter has established an annual donation in the amount of $3,500 for as long as the Chapter holds a minimum bank interest of $75,000.
SPEE Calgary Chapter annual donation is limited to those groups affiliated with the educational activities associated with the sciences, engineering and geoscience vocations.
Motion Passed
SPEE Calgary Chapter establish an Annual Donation Committee consisting of the Executive Vice Chair and 2 elected volunteers from the Membership. The Committee would be elected annually at the AGM. The volunteers elected at the 2021 AGM were David Haugen and James Gouveia.
The Annual Donation Committee will review applications and select the annual award recipient.
A SPEE Calgary Chapter member must sponsor any request for funding. A Funding Request Form will be available through the Calgary Section website. The contents of the form include:

Name and Contact Information of SPEE Calgary Chapter sponsor(s).
Name, Organization and Contact Information of Applicant.
Description of Organization including details of events or programs. Provide a web address if applicable.
A short statement explaining their event or program and indication of their interest in the area of petroleum evaluation.

Requests for funding will need to be submitted no later than our October business meeting. A candidate will be selected and the award presented to the recipient at our December meeting.
SOCIETY OF PETROLEUM EVALUATION ENGINEERS (CALGARY)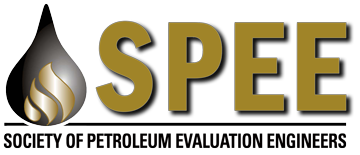 SPEE CALGARY CHAPTER ANNUAL DONATION FUNDING REQUEST FORM
This is a request to receive funding from the SPEE Calgary Chapter Annual Donation for an educational organization, program or event whose activities are associated with the sciences, engineering and geoscience vocations.